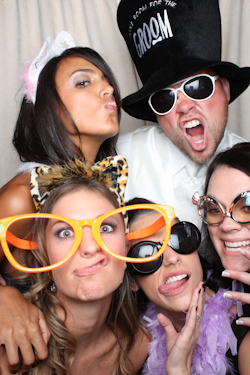 13 Oct

Corrina & John's Wedding

Corrina and John were married Saturday in Perkinston, MS at the beautiful Blackjack Ranch. With acres of fields sloping this way and that, black cattle grazing in the distance, and two beautiful fountains on either side of the ceremony, it was quite the backdrop for an amazing wedding. And did I mention that this group came to party? The fun started as the newly married couple danced up the aisle with the band Time Machine playing "When the Saints go Marching In". But I have to say the most impressive performance of the night came from the groom himself. John took to the stage no less than three times, belting out romantic (You're the Reason Why) and boot-stompin' (Save a Horse, Ride a Cowboy) songs that brought the party to their feet – and on to the dance floor – each time. I'm definitely anxious to see Sean Smith's photos of this rowdy crew. Until then, here's a little taste of the more than 125 photo booth sessions:

*All full size, high resolution photos are available for viewing, ordering and/or downloading HERE!

Click HERE for the high-res version of this video.